BMC RESMART GII BiLEVEL MACHINE WITH HEATED HUMIDIFIER AND WITH 3.5 COLORED DISPLAY
Available in all countries
Compatibility: Compatible with all CPAP & BiLevel Masks
Tubing Compatibility: Compatible with all Standard CPAP & BiLevel Tubes
GII Humidification: Compatible with RESmart GII Heated Humidifier

Universal Power Supply: Operates in all countries with the 100-240 V, 50-60Hz Power Supply

Sound Level: <30dBA (Average)

In the package: RESmart GII BPAP (BiPAP-S) with 3.5'' Colored Display, Heated Humidifier (optional), Side Cover, Dishwasher Safe Humidifier Chamber (optional), 1.8m CPAP Tubing, Universal AC Power Supply with Power Cord, RESmart Carrying Case, 2 Reusable Foam Filters (1 Installed), SD Data Card, Printed User Manuals, 2 Year Manufacturer's Warranty.

This is the RESmart GII BiPAP Machine from the RESmart series by 3B/BMC Medical. This machine has all recent advanced technology features to operate easily and efficiently. RESmart GII BiPAP includes a wide range of features such as auto on/off, auto altitude adjustment, leak compensation, heated humidifier etc. The therapy's goal is to offer the best combination of positive pressure for inhalations and exhalations and deliver the optimal pressure during events. When a higher pressure is not needed, the machine will automatically operate in a lower pressure.

Therapy Data and iCode: This feature allows the patient to review data from prior therapy sessions through the iCode remote data report and the SD data card memory (4 GB).

Ramp: Ramp operates from 0 to 60 minutes.

RESlex PR: RESlex Pressure Relief increases comfort by reducing the air pressure during exhalation, therefore allowing a less invasive breathing pattern.

Auto On-off: Auto on-off system without button.

Heated Humidifier: The machine comes with a removable Eco Smart heated humidifier (optional). Eco Smart has a dual chamber design with Storage chamber and Heating chamber, offering patients innovative and efficient humidification.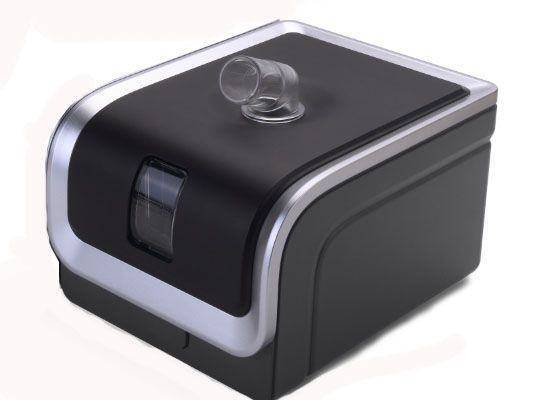 3.5'' Color LCD Display: Large colored display for easier, more comfortable operation.

Auto-Altitude Compensation: Depending on where you are, the machine detects changes in altitude and adjusts the pressure accordingly.

Certified Quality

Manufacturer: BMC Medical

Country of Origin: China

Part Number: T-25S

Technical
OPERATIONAL SPECIFICATIONS

Therapy Modes: CPAP, BiLevel S

Pressure Range: 4-25 cm H2O

Sound Levels: 30 dBA (Average)

Ramp: Standard Ramp (User Adjustable)

Ramp Start: 4 to Minimum Pressure

Auto On/Off: Available

Filters: Reusable (Standard)

Auto-Altitude Adjustment: N/A

HUMIDIFIER SPECIFICATIONS

Heater Plate Settings: Off, 1-5

Water Chamber Type: Standard

Chamber Capacity: 350 mL to Maximum Fill Line

Power Source: Not Available

THERAPY DATA SPECIFICATIONS

SD Data Card: Available


POWER SPECIFICATIONS

AC Power: Universal AC Power 100-240 V, 50-60 Hz

AC Power Supply: Yes, available

Battery: N/A

PHYSICAL SPECIFICATIONS

Dimensions:

Without Heated Humidifier: 17.00 cm x 19.60 cm x 11.80 cm (~ 6.69'' x 7.72'' x 4.65'')

With Heated Humidifier: 29.00 cm x 19.60cm x 13.40 cm (~ 11.42'' x 7.72'' x 5.28'')

Weight:

Without Heated Humidifier: 1.50 Kg (~ 3.31 Lbs)

With Heated Humidifier: 2.50 Kg (~ 5.51 Lbs)